Aaron Laux Bio
Born in 1972, Aaron Laux first understood that his life would be driven by a need to create at the age of five. His individual evolution, growth as a professional artist and commitment to community has largely been shaped by exploring the alternative. After three years of undergraduate studies at the University of Wisconsin – Madison, he followed his passion and accepted an apprenticeship with artist Steven Spiro. This blossomed into a decade of mentorship and training in wood sculpting technique which grounded Aaron's technical skills and unique vision.
Throughout the remainder of his twenties and early thirties, Aaron eschewed convention by deciding to go off the grid. Building and living in a yurt, he poured his passion and intellect into personally understanding the experiences of the first humans. Art for him at the time was survival art, learning long lost skills that connect us to the natural world. This included the process of making stone tools, which is a symbolic element in his current contemporary mosaics. Other experiential education including world travel – especially living in South India for a year – contributed to Aaron's interest in the ways other cultures relate to the natural world. This relationship with our environment is a constant theme that he explores in his work and life. From 2016 to 2018, Aaron was a Fellow in the Clark Hulings Fund Business Accelerator program. This experience helped Aaron bridge the gap between the necessity of creating an income, with the vision and spiritual side of making art. Within Aaron's diverse portfolio, you will find original art, commissions, community-based projects, public art, as well as functional and architectural works. In the last few years, commissions have included larger scale artworks for numerous institutions in Healthcare. He believes in reaching new audiences while still maintaining his vision, especially audiences who might not otherwise have access. In 2015, Aaron was selected to participate in GLEAM, an exhibition at the Olbrich Botanical Gardens in Madison. GLEAM celebrates the symbiosis of art and nature with installations of predominantly light sculptures throughout the outdoor gardens, Aaron's entitled "Luminous Grass." In 2018, Aaron was invited to exhibit his functional art with the Handmade Craft Invitational at the Dubuque Museum of Art. This exhibition featured a selected group of regional artists whose work is influencing the current functional art movement. Both of these exhibitions exemplify Aaron's innovative approach and commitment to helping us understand how we connect to the natural world.
Aaron has become increasingly vocal – and with a young daughter increasingly worried – about the impact of human caused Climate Change. He was recently selected to participate in "The Phoenix from the Ashes," an exhibit of public art organized by the Madison Arts Commission which explores Climate Change issues, including deforestation.
Aaron's fearless quest is to help us all understand that we are an integral part of the natural community and wider universe, not separate from or in opposition to it. His message is consistently broadcast through the various techniques and materials that he combines in unexpected ways.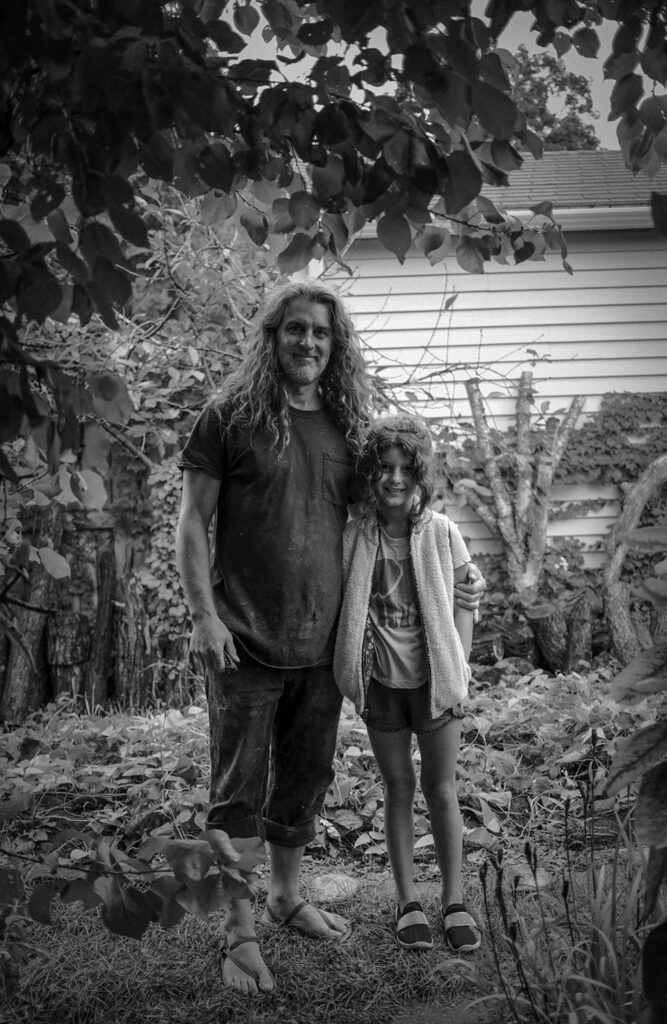 Curriculum Vitae
Commissions

2022
Prometheus' Gift Outdoor Sculpture Commission
East End Ave, New York, NY
2022
Tree Root Floor Inlay Installation
Private residence, Madison, WI
2021
Conference Table Commission
A Bio tech Co, Fitchburg, WI
2020
Sculptural Donor Wall Commission
Pinney Library, Madison, WI
2019
Upland Hills Health Wayfinding Commission
Dodgeville, WI
2017
Through The Looking Glass Sculptural Door
Built for The Weary Traveller Restaurant, Madison, WI
2017
Tree House Stairway Architectural Feature
Shapiro residence, Riverwood, IL
2017
Twins, Illuminated Wall Sculpture
Pine Health Care Campus, Sandstone, MN
2016
Water, Forest, Sky, Rice
Essentia Health Care, Ashland, WI
2014
Goff Memorial Bench
UW, Department of Horticulture, Madison, WI
2013
Restaurant Furniture Design and Installation
Osteria Papavero, Madison, WI
2013
Angle Kubly and Randy Peterson Sculptural Stairway
Kubly Peterson Residence, Madison, WI
2012
Bay Creek Neighborhood Gateway Sculpture
Community Project, Madison, WI

Art Exhibitions

2019
Swept Away Exhibition
Overture Center, Madison, WI
2019
Phoenix from the Ashes Exhibition
Overture Center, Madison, WI
2017
Gateway to Imagination – A National Juried Art Competition
Farmington Museum, Farmington, NM
2017
Artistry's Annual Members' Juried Art Exhibition
Inez Greenberg Gallery, Bloomington, MN
2017
Chairs Exhibit at The Bascom Center For The Visual Arts,
Loft Gallery, Highlands, NC
2017
14th Annual Regional Juried Exhibition
Freeport Museum, Freeport, IL
2017
Variety is the Spice of Life Exhibit, Invitational Group Show
Zenith Gallery, Washington DC
2017
Water: The Essence of Life Exhibit
Alfons Gallery, 43 artists from Wisconsin, Milwaukee, WI
2016
Luminous Flux, Themed Invitational of Light Sculpture Installations
Marzen Gallery, Madison, WI
2015
Dubuque Biennial, Featured Work, Squash Blossom Table
Dubuque Museum of Art, Dubuque, IA
2015
Prometheus' Gift, Featured in the Bubbler, Sculpture Installation
Madison Central Public Library, Madison, WI
2015
GLEAM,Integrated outdoor light sculpture installation
Olbrich Botanical Gardens, Madison, WI
2014
Solo Exhibit
KW2, Madison, WI
2013
New Work Debut
DIAS Fashion Show, Overture Center for the Arts, Madison, WI
2012
Sound Cave DJ Sculpture, Featured at the Bookless Event
Madison Public Library, Madison, WI
2011
Participated in The Art Prize Competition
Grand Rapids, MI
2011
Perched, Functional Sculpture, featured at Rising Star Juried Show
North West Fine Woodworking Gallery, Seattle, WA

Awards

2014
Honorable Mention, Exhibition
Bascom Center for the Arts, Highlands, NC
2014
Honorable Mention
Freeport Museum Juried Art Exhibition, Freeport, IL
2014
Best of Show at the Dane Arts Buy Local Event
Madison, WI
2014
Prize winner at the Midsummer Art Festival
Kohler Art Center, Sheboygan, WI
2013
Prize winner at the Milwaukee Domes Art Festival
Milwaukee Domes, Milwaukee, WI
2019
Juror for the Madison Artfair on the Square
Madison, WI
2016-2018
Clark Hulings Fund Business Accelerator Fellowship
1990-2000
Apprenticeship with Wood Sculptor Steven Spiro
Madison, WI
1990-1993
Attended University of Wisconsin, Madison
Madison, WI

Bibliography

2019
Phoenix from the Ashes front page article
2017
Tree House Stairway feature article
Artsy Shark
2013 (May)
Featured in 77 Square
Wisconsin State Journal, Madison, WI
2011 (October)
NorthWest Fine Woodworking Magazine
Featured in Rising Star Juried Show Article, Seattle, WA