TO LIVE WITH ART IS TO LIVE WELL
From design inspired by organic forms to the use of reclaimed materials, I pose the question: What is our place in the natural world? My art rises from a necessity to respect, conserve and preserve the environment.
I use light and dark color, illumination, as well as contrasting, yet symbiotic materials of concrete, recycled plywood, metal, glass and paper to create art that is functional and beautiful. My intent is to insert nature-inspired shapes into daily living spaces. My sculptures and furniture intend to explore the relationship between humans and the natural world that surrounds them, which is why the art I create mimics forms in nature. My compositions tell and retell the same story of contrasting and opposing elements, repelling and drawing together, ultimately becoming whole.
I believe we infuse the objects in our daily lives with the emotions and memories that reflect who we are. My greatest satisfaction is when other people can experience the art through their own stories and recollections, thus awakening their sense of wonder and awe of nature. When we fall in love with a work of art, it will continue to give back to us.
That is why I believe, to live with art is to live well.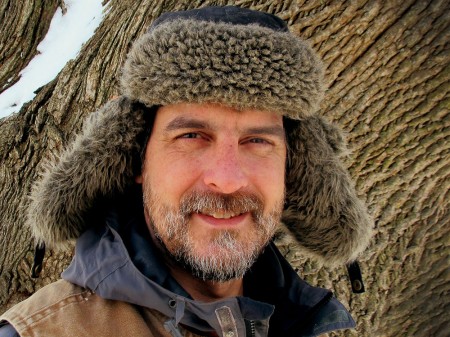 Aaron Laux was born in 1972 and has called Wisconsin home for most of his life. He is a wood worker but also has experience with many other sculptural media. His training took place during a ten year apprenticeship with, artist Steven Spiro. Furniture as sculpture, is expressed through his nature based aesthetic, and connection to functional design. Much of Aaron's work is produced through commissions, and is in collections through out the midwest.
Exhibitions

2015
March
2015 DUMA Biennial
Dubuque Museum of Art, Dubuque, IA
2014
December
One of a kind Show
Merchandise Mart, Chicago, IL
2014
September
Art Apothecary
Marzen Gallery, Madison, WI
2014
March
One Person Show
Change Botique, Madison, WI
2014
February
New Work Debut
KW2, Madison, WI
2013
October
New Work Debut
DIAS Fashion Show, Overature Center for the Arts, Madison, WI
2013
September
Bay Creek Neighborhood Sign Dedication
Bay Creek Neighborhood, Madison, WI
2013
March
Commission Unveiling
Italian Craft Beer Night, Osteria Papavero, Madison, WI
2012
February
Sound Cave Sculptural Furniture Featured
Bookless Event, Madison, WI
2011
August
Participated in Art Prize
Grand Rapids, MI
2011
May
Work featured at Rising Star Juried Show
NorthWest Fine Woodworking Gallery, Seattle, WA

Awards

2015
GLEAM Grant Competition: Art in a New Light
Olbrich Botanical Gardens, Madison, WI
2014
Prize winner at the Midsummer Art Festival
Kohler Art Center, Sheboygan, WI
2013
Prize winner at the Milwaukee Domes Art Festival
Milwaukee Domes, Milwaukee, WI

Commissions

2014
Goff Memorial Bench
University of WI, Department of Horticulture, Madison, WI
2013
Restaurant Furniture Design and Installation
Osteria Papavero, Madison, WI
2013
Angle Kubly and Randy Peterson Built-in Stairway
Kubly Peterson Residence, Madison, WI
2012
Bay Creek Neighboorhood Entryway Sign
City of Madison, Madison, WI

Publications

2013
May
Featured in 77 Square
Wisconsin State Journal, Madison, WI
2012
October
NorthWest Fine Woodworking Magazine
"Perched" featured in Rising Star juried show article, Seattle, WA

Experience

1990
2000
Apprenticeship
Working with artist, fine woodworker Steven Spiro, Madison, WI
2000
Present
General Contractor
Specializing in finish work, Madison, WI